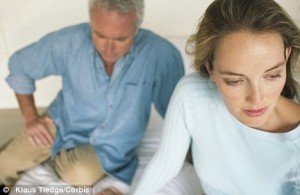 Heart is one of the most important organs in the human body. It supplies blood and oxygen to the entire body. The heart is usually the size of your fist and beats about 100,000 per day pumping five to six quarts of blood every minute which amounts to 2000 gallons everyday.
There are different kinds of heart disease that a person may suffer, they are:
Coronary disease which is the result of accumulation of athermanous plaques in the walls of the arteries that supply myocardium.
Ischemic heart disease which is a reduced flow of blood to the heart
Cardiovascular disease is a class of disease that involves the heart and blood vessels. This usually leads to diabetes, high blood pressure and cholesterol.
Pulmonary heart disease: This is when the right side of the heart fails.
Hereditary heart disease
Hypertensive heart disease
Inflammatory heart disease
What is impotence?
Impotence or erectile dysfunction is a condition where men do not get the desired erection for sexual satisfaction or may lose the erection before the sexual act. Basically there is no control on the erection hence it is known as erectile dysfunction. Impotence may be caused by physical or mental conditions and sometimes can even be side effects of certain other drugs. A bad relation could also cause a low libido or temporary impotence. There is no specific reason why it happens but it is treatable and one should visit the physician at the earliest. He will conduct tests and do a physical examination to diagnose the problem.
Relation between impotence and heart disease
International health experts are calling men suffering from impotence to go through medical assessments after an extensive report showed that of them a significant number with erectile dysfunction (ED) showed early signs of coronary disease (CAD).
Their conclusion was:
Erectile dysfunction in healthy men and those who suffered from Type 2 diabetes could be associated with early signs of coronary disease (CAD), including reduced blood flow and calcification of the arteries
Men who suffered from ED show severe CAD and dysfunction in the left ventricle of the heart than people without ED.
CAD is preceded by ED in two-thirds on men. The association in men between 40-69 years of age is clearer than men over 70.
ED is associated with an increase in all-cause mortality, primarily through its associated with CAD.
Impotence can be taken as an early signal for heart attack. Those who suffered from impotence also were 10% more likely to have a stroke and 20% more likely to be hospitalized for heart failure after discounting factors like age and smoking.
Men who suffer from impotence may need to ware of the potential risk of cardiovascular disease. It is a like a warning being sent to you. Many times it is seen that ED is a forerunner of the disease angina. Researches show that the arteries of those people suffering from ED expanded less easily than people not suffering from ED. The reason being clogged arteries.
Avoid alcohol, tobacco and other addictions to live a healthy life
Any kind of addiction is injurious to t he health. Smoking, alcohol or drugs are all equally bad. Tobacco intake makes the blood vessels smaller and thinner making it difficult to pump blood to the penile region causing impotence. Alcohol decreases sex drive or lowers the libido. A person suffering from diabetes should not take alcohol at all.
A healthy nutritious diet and exercise plan go a long way in keeping you healthy. Smoking, drugs, alcohol are all bad for the heart and sexual well-being. Give up your bad habits before they take the life of you.
People who read above article also read the following...
Read some similar articles :