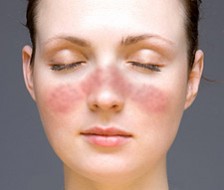 There is no known cause of lupus. However, this disease is more common in females than males. It is more prevalent in the 'healthier generation' i.e. people in the age group of 10-50 years. Lupus also seems to have a genetic connection as it is more common in families that have a family history of this disease.
The symptoms of this disease also vary from patient to patient. It affects various systems of the body. Some of the most common symptoms are:
Inflammation in the joints of the musculo skeletal system.
Mild to severe pain in the joints.
Arthritis
Rashes, painful nodules and lesions that appear as raised bruises
Headaches, psychosis and seizures
Damage to the kidneys
Pleurisy
A change in diet can have some brilliant effects on the body and also helps in getting rid of lupus for good. A good diet can boost immunity and thus increase the resistance power of the body.
A nutritional Lupus diet includes:
Get hydrated: Increase the water intake by consuming more than 3-4 liters of water everyday. This helps the body detoxify by eliminating the toxic substances from the body and thus improve digestion.
Go green: Adding a generous helping of green leafy vegetables adds vitamins and minerals to the nutrition and provides fiber which fights of constipation, detoxifies and facilitate good absorption.
Add some fatty acids: consuming a moderate amount of fish, shell fish, flaxseeds, hemp oil, soya oil , sunflower seeds and walnuts adds healthy fatty acids to the diet. Fatty acids can decrease the inflammation and pain.
Choose organic plants over such as meats and eggs as this can reduce the chances of food allergy.
Food items to avoid:
Alcohol and energy drinks are a strict no as they not only decrease the water content of the body but also increase the toxicity level.
Oily and fired items cause weight gain
Spicy foods and artificial sweeteners can also trigger this disease.
People who read above article also read the following...
Read some similar articles :