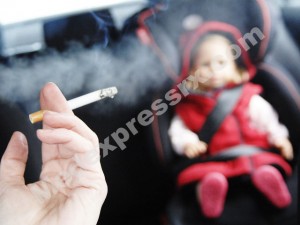 In this stressed out world, every one is seeking ways to relax themselves. Some find happiness with drugs, some with alcohol and some relax themselves by smoking the cancer stick – cigarette. It is very harmful to smoke as it injures not only you but also those round you in the form of passive smoking.
When you have little children in your house, your passive smoking inhibits the growth and also affects their immune system. Many tend to overlook the fact that the child in one's womb may not be free from the dangerous clutches of the cigarette smoke. The unborn little one will also be affected by the harmful ingredients of the tobacco smoke and in turn it is dreadful to see a child suffering from small head circumference, pneumonia, respiratory problems, asthma and at times even the dreadful cot death.
These are just few of the drastic results of smoke. People who do not smoke give their child a chance to have a better life. It is wise to set up an environment in your own home that does not encourage smoking, yours or your friends. Some people who have been smokers resort to sticking 'stick ons' on their walls so as to remember the fact that they should not be smoking. These easy to stick ons can be bought from any health counsellor .When stuck on the walls of the house, it makes the one who enjoys smoking understand that he/she cannot smoke in the house or in the car with kids/children near him/her.
How do you deal with smokers in the house?
Smokers are also human beings who are addicted to a very harmful substance. Most tend to argue that they have their own right to do what they like. It is important to politely and gently advice them to get over their smoking habits.
Use famous proverbs and lines that can be stuck in beautiful bright stick ups in the walls/car /toys of the child and thus creates awareness in the child's mind even in the early stages of his life.
Many developing as well as developed countries have got children being hospitalised and this kind of hospitalisation is due to the only reason that the parents or one of the parent are ardent smokers. Do you know that your children imitate what you do?
In that case children who grow up from a smoky household would gradually in the long run grow up and suffer from lung diseases and some may also become infected. In the developed countries, these children are the most likely to quit school.
People who read above article also read the following...
Read some similar articles :