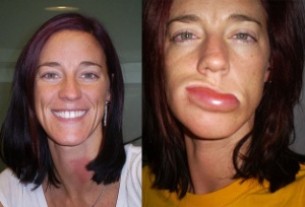 Angiodema is characterized by a swelling that occurs just below the skin, usually around lips, eye or throat. It differentiates from hives as it is found in deeper skin and produces itchy, reddish welts on skin. Angiodema is known to be caused by allergic reactions in which histamine and some other chemicals as well are released into blood vessels provoking it to swell. Histamine is released when immune system of body triggers a foreign particle, allergen. To remove the foreign particle histamine is released. These factors causing allergies are mostly due to food like shell-fish, milk, eggs, nuts or seeds, pollen, insect bites or even animal denuder. Medicines like non-steroidal inflammatory drugs, aspirin or antibiotics can also stimulate allergic reactions. Some disorders like leukaemia and lungs infection also trigger angiodema.
Types of Angiodema
Angiodema is found to be of two types.
Heredity angiodema, in which entire body as well internal organs get swollen
Acquired angiodema, in which only part of body get affected and the other part has no affect of it, like throat swelling.
Dealing with Angiodema
Men of any age can get angiodema as it has no concern with age. If you are allergic to any factor, angiodema can be caused. As they are found deeper in skin, so intense and painful burning signs the disease, followed by the swelling around the affected areas like eyes, tongue, throat, hands, neck and feet. Finally the red or discoloured patches or welts start to appear indicating angiodema presence. Any such allergic reaction must not be ignored, thus if found, it is important to consult a doctor soon. Often, people not taking it seriously and hence suffer from abnormal cramping followed by difficult breathing and suffocation at times. Doctors usually recommend blood test, allergy tests or skin sensitivity tests. If symptoms are mild, providing a cool compress can heal the pain and even damage.

Effects of Angiodema
Angiodema appearing at throat could produce hazardous effects as it might block the air passage to lungs. In this case first open the passage of air to the patient and remove the allergens from him as a form of instant treatment, afterwards consult a doctor or dermatologist to remove obvious symptoms.
Curing angiodema today is easier as there are so many treatments methods found. First are the medicines. All anti-inflammatory, anti-histamine medicines like Fexofenadine and Cetrizine, epinephrine and Zantac (ranitidine) are most used drugs to treat it. Homeopathy medicines in which severity is reduced are also practiced. Herbs like goldenseal reduce inflammation and green plants acting as anti-histamines are famous as well. With the help of several natural ways, like using green vegetables and vitamin C, vitamin B-12 and even Bromelain which reduces inflammation, angiodema symptoms can be alleviated.
People who read above article also read the following...
Read some similar articles :