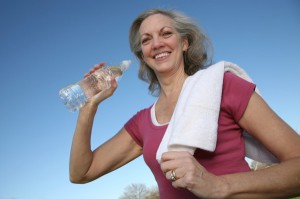 Women who are underweight or have lost weight all of a sudden which could be due to operation or something else must see a health expert only to make sure that there is no underlying reason for this sudden weight loss. You might perhaps be underweight due to your diet which doesn't supply you essential energy or calories.
Being underweight gives a rise to many health issues which takes account of rupture of the bones in case if you collapse down. This on the other hand weakens the immune system and leaves you more vulnerable to sicknesses and as a result gives a rise in the risk of being scarce in vital nutrients such as minerals and vitamins. Nevertheless, you can follow few steps in order to perk up your diet and get the energy as well as nutrients which the body needs.
Manage your appetite
As women get older, it is very common for ones appetite to have food in less amounts and one might not even feel like eating. If you feel that you are missing out the essential nutrients and underweight then it is very important to get all the energy and nutrients which your body requires. There are two steps to do this:
Have smaller meals so that you do not have to struggle to eat large full of meals every day.
Boost your intake of calories by eating food which provides you the energy as well as essential nutrients that the body needs in order to keep hold of good health. steer clear from foods which show high amount in saturated fat or sugars like sugary fizzy or spiked drinks and biscuits.
Food routine
Few of the people find it tough or even to a certain extent next to impossible to cook their own food as they turn older. Other women have a tendency to lose their interest in having food. These both factors can show its way to making women underweight.
Women who want to get interested in having food or if you have lost the taste to eat then look up to your friends or family who will encourage you in indulging healthier meals as far as possible. Lunch clubs and other groups are even a good way to make meals very social.
Follow below listed tips if you find it tough in making foods:
Check the labels of fast foods when you buy them and chose those which carry less salt amount in it.
Snack on fistful of dried fruits every now and then. This is one best option to fresh fruits that requires no preparation and keeps you fit.
Freeze tinned vegetable at home as these are very easy to prepare.
People who read above article also read the following...