Is  alopecia hereditary?
Ans. If the men in the family suffer from alopecia, there is a good chance of the sons and grandsons also encountering this disorder. There is no known cure for genetic hair loss, though living a healthy, stressful life may postpone the onset.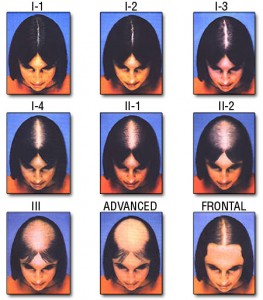 When does the hair start turning grey?
Ans.With junk food, polluted environment and stressful lifestyles, graying of hair can even start in the adolescent, though this varies from person to person depending on the diet, products used and genetic disposition.
Does dandruff increase hair fall?
Ans. Studies show that people suffering from dandruff also complain of hair fall. This could be due to severe scratching that can cause trauma to the hair follicles and scalp. Also, scalp with dandruff have a higher tendency of getting infected, increasing the chances of hair fall.
Do women suffer from baldness?
Ans. Chances of women encountering complete baldness are rare though they may suffer from hair thinning or receding hair line as a result of their hair styles.
How many times in a week should the hair get shampooed?
Ans. Hair can be shampooed everyday, provided the hair products contain mild, natural ingredients.
Are there any oils that treat hair loss?
Ans. Massing your scalp with oil does help in preventing hair loss, though no oil has proven to regrow hair from bald patches.
Is it harmful to blow dry your hair?
Ans. Hot air rips off the natural moisture from your hair leaving it dry and brittle. Prolonged usage of hot hair dryers can harm your scalp leading to dryness and itchiness.
I am a 50 year old woman. Lately my hair is falling in huge clumps. Why is this happening? What can I do to stop it?
Ans. Around the age of 50, women enters into the stage of menopause where their body undergoes hormonal change. These changes result in hair fall and thinning of hair. Consult a dermatologist for further reference.
Can dieting resulting in hair fall?
Ans. Dieting results in decreased nutrient intake which in turn leads to less nutrient
supply to the hair roots. Due to lack of nutrients the hair follicles tend to get weak and
fall easily.
I loose around 50 hairs per day. Do I have a cause to worry?
Ans. Loosing 100 hair per day is normal.
Does hair fall lead to baldness?
Ans. Not always. Unless the man is suffering from genetic baldness, it usually leads to scanty hair.
People who read above article also read the following...
Read some similar articles :