The Food Pyramid, developed by the US Department of Agriculture (USDA), is a great way to help you make healthy food choices. The food pyramid helps to choose from a range of foods so you get the essential nutrients your body needs as well as the suggested portions can help you to control the amount of calories, fat, saturated fat, cholesterol, sugar or sodium in your diet.
Key concepts of the food pyramid
Use the food pyramid for the food choices
Chose lean meats and low fat dairy products
Saturated fats should not exceed 10% of your calories
Base fat intake on the calorie needs
How the food pyramid can guide you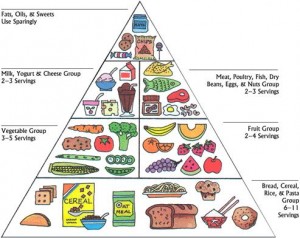 What is your caloric limit?
One needs to have enough calories daily for the body to have all the nutrients it needs. The amount of calories you need depend on several factors that include:
Age
Sex
Your level of activity
Whether or not you are pregnant
If you have any chronic illnesses
The following recommendations by the national academy of science are for the following categories:
1600 calories for women leading a sedentary lifestyle and more some elderly individuals
2200 calories for a man leading a sedentary lifestyle, adolescent girls, children and women who are active
Pregnant women need between 300-500 calories extra each day
2800 calories – this is for adolescent boys, active men and very active women
What size serving is right for you?
Now that we know the recommended calories for a person, we can now address how many servings of each food group we need. In the pyramid bread, grain, cereal and pasta form the base. At the pyramid base in the food pyramid, the group of breads, grain, cereal and pasta form a group. These foods provide complex carbohydrates which is an important source of energy for a low-fat meal plan.
One needs to take 6-11 helpings of these per day. One serving of this particular group may be:

A slice of wheat bread
Half cup of cooked rice, cereal or pasta
1 cup ready- to – eat cereal
1 flat tortilla
Try to consume more of whole grain breads, pasta and cereal for most of your servings from the pyramid group. Whole grain or whole wheat foods are healthier; less processed and retain valuable vitamins and fiber than other foods.
Fruits and vegetables
Vegetables and fruits are rich in nutrients. Some of them are great sources of Vitamin A & C as well as folate and potassium. They are low fat and high on sodium and fiber. The food pyramid suggests 3-5 servings of fruits and vegetables per day. One serving of vegetables could be:
I cup of leafy raw vegetables
½ cup of other vegetables, raw or cooked
¾ cup of vegetable juice
The pyramid suggests 2-4 servings of fruit everyday, one serving may be:
One medium apple, orange or banana
½ cup cooked, chopped or canned fruit
¾ cup of any fruit juice
Only 100% fruit juice without sugar and water is considered juice. Bottled juice and other commercial drinks are not good for health and can add lot of sugar and calories to your diet. Punches, ales and most fruit drinks are more sugary and don't count as a healthy drink at all.
Beans, eggs, lean meat and fish
Eggs, lean meat and fish supply an adequate amount of protein, iron and zinc. Non-meat foods like beans and dried peas also provide nutrients. The pyramid suggests 2 to 3 portions of cooked meat, fish or eggs. Each serving should not be more than 2 – 3 ounces; the following is counted as one ounce of meat:
One egg
2 tbsp of peanut butter
½ cup cooked dry beans
1/3 cup of nuts
Lean meat, fish, dry beans and peas should be consumed often as these are the lowest in fat. The skin from the poultry should be removed and all the visible fat trimmed. Avoid frying these foods and eat them and the nuts moderately since they are high in fat.
Dairy products
Products that contain milk are rich in protein, vitamins and minerals, especially calcium. The pyramids suggest 2 to 3 servings of each a day. If you are a adolescent, breastfeeding, pregnant or a young individuals aged 24 or under try to have 3 serving of this. Limit on the intake of high-fat cheese and ice cream. Choose non-fat milk and yogurt and cheeses made from skim milk because they are lowest in fat.
Fats and sweets
This is the smallest part in the food pyramid. This should be the smallest percentage in your daily diet. The foods on the top should be taken in limitation since they don't add to nutrition at all. These foods are the salad dressing, oils, cream, butter, margarine, sugars, aerated drinks, candy floss and desserts.
How much sugar do you need?
The natural sugar found on fruits and milk is okay but the added sugars are bad and need to be limited since they add to empty calories and very few vitamins and minerals. Added sugar can be found in jams, jelly, syrups and table sugar we add to our coffee and cereals.
Following are some guidelines for added sugar based on calories in the regular food choices we make:
1,600 calories – Limit sugar to 6 teaspoons per day or 22 grams per day
2,200 calories – Limit sugar to 12 teaspoons per day or 44 grams per day
2,800 calories – Limit sugar to 18 teaspoons per day or 66 grams per day
If the food label on your sweet yogurt mentions a serving contains 22 grams of sugar, and your meal plan is 1,600 calories a day, you have eaten your days recommended amount of sugar.
The amount of fat you can eat based on your caloric needs
The amount of fat you can eat is dependent of your caloric needs. Experts from the American heart association recommend that Americans limit dietary fat intake to 30 percent of daily calories. Here is the fat grams allowed based on the daily calories.
1,600 calories – Limit fat to 53 grams
2,200 calories – Limit fat to 73 grams
2,800 calories – Limit fat to 93 grams
It is a good idea to do a fat check up occasionally and not everyday to ensure you are on the right track.
What should one do to lose or gain weight?
The most recommended way is to engage in physical exercises. On the side, reduce the sugar intake and make the right food choices. You must eat at least the minimum number of servings from the five food groups shown in the pyramid. Try to eat the nutritious foods and avoid the less nutritious ones and choose from the lowest fat choices in the food groups.
To gain weight increase food intake from all the food groups and see a dietician to get more specific results. The food pyramid is useful whether you want to lose or gain weight. Eating healthy is easier if you base your choices on the food pyramid.
Here is a food chart that gives insight into the food sources and their functions in the human body.
Mineral:
Found in:
Function in Body:

Calcium

Dairy Products and Leafy Vegetables

Bone and teeth formation
Coagulation of blood
Muscle contraction

Phosphorus

Milk, Cheese, Nuts, Cereals, Legumes

Bone and tooth structure
Used in all of the bodies energy-releasing reactions

Magnesium

Nuts, Legumes, Whole Grains, Dark Leafy Greens, Milk

Bone and tooth structure
Nerve conduction
Muscle relaxation
Bowel function

Iron

Legumes, Whole Grains, Potatoes, Egg Yolk, Cocoa, Green Vegetables, Dried Fruit

Iodine

Sea Vegetables

Regulates energy metabolism
Is part of thyroid hormone
Involved in cellular oxidation and growth

Zinc

Eggs, Nuts, Cereals, Wheat Germ

Sexual Maturation
Wound healing
Ability to taste,
Protein synthesis,
Immunity

Copper

Nuts, Legumes, Whole Grains, Water

Part of many enzymes for protein fibers and skin pigments

Manganese

Nuts, Whole Grains, Legumes, Tea, Fruits, Non-Leafy Vegetables

Glucose utilization,
Enzyme activator

Fluoride

Fluoridated Water, some kinds of Black Tea

Chromium

Brewer's Yeast, Whole Grains

Helps maintain normal glucose tolerance

Selenium

Protein-rich Plant Foods

Cellular antioxidant
Constituent of red blood cell enzymes
Decreases toxicity of heavy metals.

Molybdenum

Whole Grains, Legumes

Potassium

Most Fruits, Starchy Vegetables,, Dark Leafy Green Vegetables

Main electrolyte inside all body cells

Sodium

Salt

Main electrolyte outside all body cells
People who read above article also read the following...
Read some similar articles :