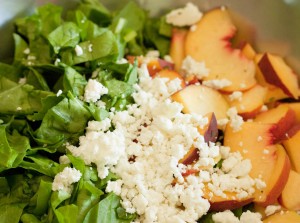 Morning meal is the most important way to refuel your body with essential vitamins and minerals required to keep you active throughout the day; especially after fasting the whole night. A healthy breakfast choice can help you start your day on a good note. A protein rich diet is what can boost your energy level and help you stay away from the cravings for a long time. A good protein right diet can help boost your metabolism which will help you lose weight substantially. This article will help you decide on a power packed protein enriched breakfast…keep your taste bud active…
The primary choice would be Waffles with Ricotta Cheese and Peaches:
A whole grain waffle can be topped with ½ cup of ricotta cheese along with sliced peaches to make things nutritional. Do not worry about the fruit, it is always better to go with seasonal fruits, if you do not find peaches, replace it with canned pineapple….let's take a look at nutritional value of this breakfast
Calories: 300
Proteins: 15g
Fats: 13g
Carb: 38g
Fiber: 6g
Quinoa & Yogurt – Fiber and Protein Enriched
Quinoa is one of the most valued and well known whole grain diet and is an ultimate breakfast option that has high nutritional value. Prepare half a cup quinoa with at least 6oz of skimmed yougurt and serve it with one fully sliced apple. The nutritional value includes:
Calories: 315
Proteins: 20g
Fats: 2g
Carb: 55
Fiber: 7g
The Favorite – Spinach Cheese Egg Scramble:
Begin your morning with scramble eggs and add spinach and shredded cheese to bump up the protein value. Sauté 4 egg whites, leaving the yolk as it contains saturated fats, throw a well cut spinach along with shredded cheese to make lip smacking high protein breakfast. Serve it grape fruit to increase its nutritional value…let's take a look…
Calories: 330
Proteins: 29
Fats: 11
Carb: 32
Fiber: 7
People who read above article also read the following...
Read some similar articles :